Check out the Sept. 27 edition of What's Trending in Aerospace, where editors and contributors for Avionics International bring you some of the latest headlines happening across the global aerospace industry.
Commercial Aviation
Boeing Licenses Ultraviolet Wand to Healthe, Inc. to Counter COVID-19
Boeing entered into a patent and technology license with Florida-based Healthe Inc. under which Healthe will manufacture an ultraviolet (UV) wand designed to sanitize airplane interiors, according to a Sept. 22 press release.
Boeing designed and developed the UV wand as part of the company's Confident Travel Initiative (CTI) that has been providing a new web-based portal to educate and answer passenger questions and concerns about air travel health risks related to the COVID-19 coronavirus pandemic.
"The UV wand is designed to be more effective than similar devices. It quickly disinfects surfaces on an airplane and further strengthens other layers of protection for passengers and crew," Mike Delaney, who leads Boeing's CTI efforts, said of the new wand.
"Boeing spent six months transforming an idea for the wand into a working model, and Healthe will now take that prototype and make it available to the world at large," he added.
The UV wand uses 222 nanometer UVC light, which Boeing says it has found to be capable of  inactivating  pathogens effectively.
Using the self-contained apparatus that resembles a carry-on suitcase, crews can pass UV light over high-touch surfaces, sanitizing everywhere the light reaches. The UV wand is particularly effective in compact spaces and sanitizes a flight deck in less than 15 minutes.
EASA Signs New Cybersecurity Agreement With BSI
The European Union Aviation Safety Agency (EASA) and Germany's Federal Office for Information Security (BSI) have established a new partnership to enhance cybersecurity in international aviation. According to a Sept. 24 press release, the partnership is focused on "tackling the threats to flight safety posed by the increased digitalization of aircraft and interconnectivity of aviation systems."
BSI President Arne Schönbohm signed a memorandum of cooperation with EASA Executive Director Patrick Ky last week to solidify the new partnership.
"Flying is generally considered the safest form of transport. Considering the increasing digitalization and connectivity in aviation, cyber security is a key factor to ensure that this remains the case. We can only have a successful digital takeoff in aviation if information security is on board from the very beginning," Schönbohm said.
In the agreement, the BSI and EASA agree to exchange relevant information on information security incidents and threats and to cooperate on managing cyber attacks and information security incidents within their respective areas of responsibility.
"Cyber security is an essential component to ensure flight safety. We are confident that this cooperation will help to increase our joint awareness of cybersecurity threats and the best practices for managing them," Ky said.
On Sept. 22, officials representing EASA and FAA participated in a webcast focusing on each of their latest cybersecurity advancements and upcoming policy updates.
CAE Launches New Digital Training Platform Airside
CAE launched a new digital community platform, Airside, for pilots with resources geared towards career and training tools that they hope will provide assistance during the COVID-19 pandemic. 
"CAE is building a strong pilot community on Airside and providing the information and tools required to get through these challenging times," Nick Leontidis, CAE's Group President, Civil Aviation Training Solutions, said in a statement. 
In August, Delta announced furloughs for over 2,000 pilots starting October 1, according to reporting from Business Insider. Delta also gave early retirement and bailouts to 1,800 pilots during the pandemic. American Airlines had to lay off 17,500 workers, including some pilots, according to reporting from USA Today. 
Airside was created after surveying 3,000 pilots in April. The platform provides users with a resume builder, career section, articles, and podcasts. 
Business Aviation
NBAA Goes Virtual Next Week
The National Business Aviation Association (NBAA) will host a weeklong slate of events throughout the week of Oct. 5-9, 2020.
"This year, it's more important than ever for our industry to come together, recognize innovative leadership, and seize this moment to strive for new heights," said NBAA President and CEO Ed Bolen. "We're going to gather virtually, learn together and plan for the future."
The program includes two, first-time virtual events: a dedicated Virtual Safety Week, honoring and further advancing leadership in safety, a core industry value, and also a designated day to honor young business aviation leaders from across the industry who are making a difference.
Check out the full agenda here.
Embedded Avionics
NVIDIA Takes GPU Technology Conference Online Next Week
NVIDIA is hosting the latest edition of its NVIDIA's GPU Technology Conference (GTC) Oct. 5-9, 2020. The embedded processing supplier uses these events to give developers, researchers, engineers, and innovators a "deeper understanding of how artificial intelligence will transform their work." according to the company.
Check out the full agenda here.
Airbus Will Use OnTime Networks' Ethernet Switch for Flight Testing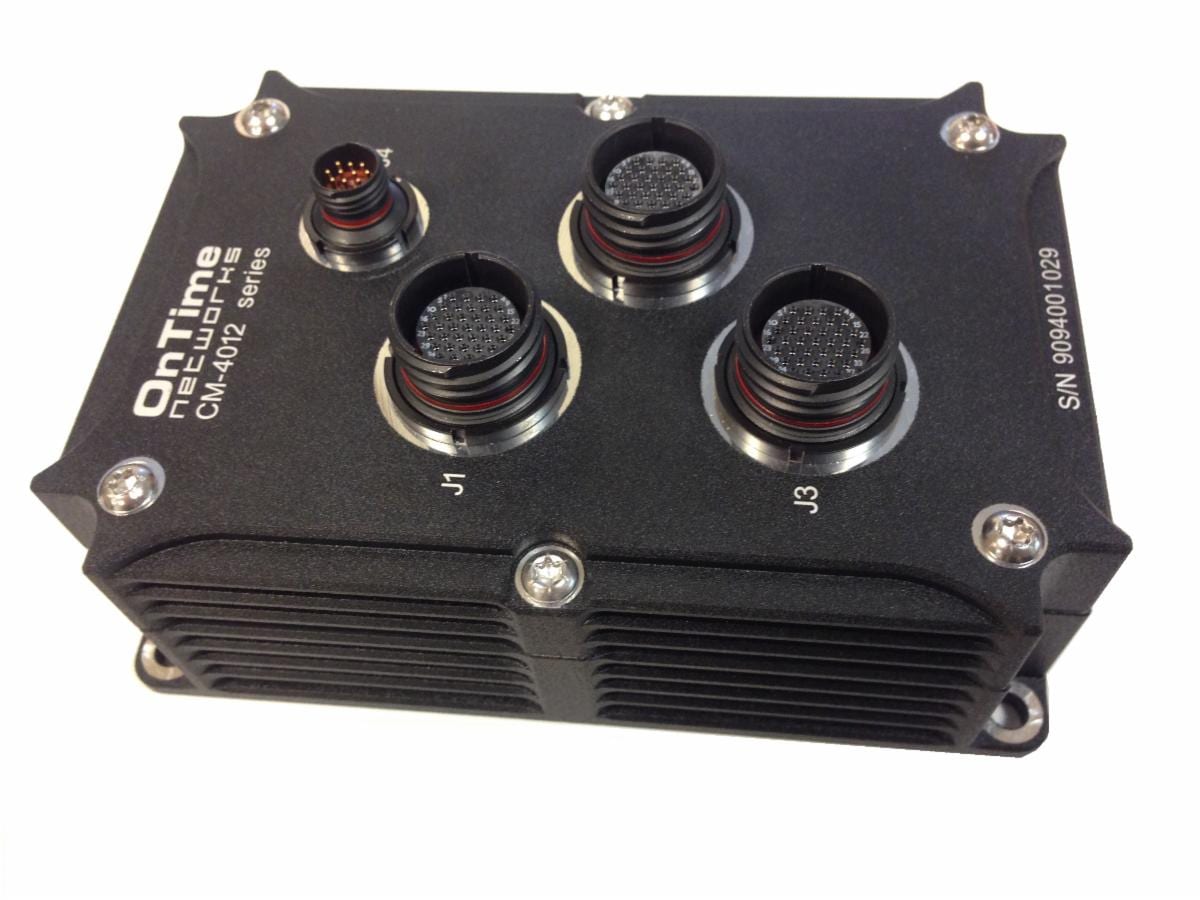 A multi-year agreement between OnTime Networks, a producer of modular gigabit ethernet switches, and Airbus for the use of OnTimeNetworks' airborne-grade ethernet switch to be used in-flight testing.
The CM-4012F0-AER 12 Port Gigabit Ethernet switch will be used when testing high-speed data acquisition system applications. The CM-4012F0-AER is designed for high altitude, extreme shock, vibrations, harsh climate, and dust and water exposure.
"This contract is a strong example of our long-standing relationships and continued support of the critical flight test industry," Øyvind Holmeide, CEO of OnTime Networks, said in a statement. "It reinforces our commitment to providing the most advanced and reliable networks and time synchronization solutions for high-speed flight test instrumentation system applications."
Testing of High-Speed Hypersonics Just Got More Affordable
The University of Texas at Arlington (UTA) and Ansys, a simulation software company, have teamed up to streamline workflow for validating system models for hypersonic vehicles used by the United States government, according to a Sept. 22 press release. The partnership will cut down on taxpayer costs and development time.
The development of hypersonic aircraft, spacecraft, and missiles can be extremely costly, running as much as "$100 million dollars for a single prototype flight test," according to the press release. These costs have slowed down initiatives by the Defense Department and NASA in the production of high-speed hypersonic aircraft, spaceships, and missiles.
The crux of this partnership relies on using Ansys' hypersonic systems models in UTA's state-of-the-art arc jet hypersonic wind tunnel.  Ansys' simulation solution is aimed at developing hypersonic technologies for projects ranging from thermal protection systems in spacecraft to combustion technology for hypersonic travel.
"Testing and validating physics-based component models within a wind tunnel that operates at hypersonic speeds and temperatures delivers a major technological advantage for our mutual customers, driving faster development of cost-effective solutions," Luca Maddalena, professor of Aerospace Engineering and director of the UTA's Aerodynamics Research Center, said in a statement. "The university's arc jet will help validate Ansys' software codes for hypersonic applications and power leading-edge research in aerothermodynamics, scramjet propulsion, ablation, and much more."
Military
AirMap Received $1M Contract for Agility Prime Program
AirMap, a digital airspace and automation company serving the drone economy, received a $1 million contract to provide unmanned aircraft systems (UAS) traffic management (UTM) to the Air Force's Agility Prime program, according to a September 22 press release. 
Agility Prime, which launched in April, is an Air Force program focused on supporting commercial investment of electric vertical takeoff and landing aircraft (eVTOLs). 
The contract, given by AFWERX, is a $1 million Direct to Phase 2 Small Business Innovation Research (SBIR) award. It will allow Agility Prime to use AirMap's unmanned traffic management (UTM) platform. AirMap platforms allow airspace authorities to safely fly drones in low altitude airspace. 
"AirMap is proud to partner with the USAF to provide industry-leading UTM services for advanced air mobility operations. We are excited to support all of the Agility Prime participants as they build, test, and bring their eVTOLs to market," said Larry Berkin, GM of the AirMap Defense Group, an AirMap business unit focused on providing mission-critical technologies to the US Department of Defense.
Unmanned
More Eligible Airspace Open for Low-Flying Commercial Drones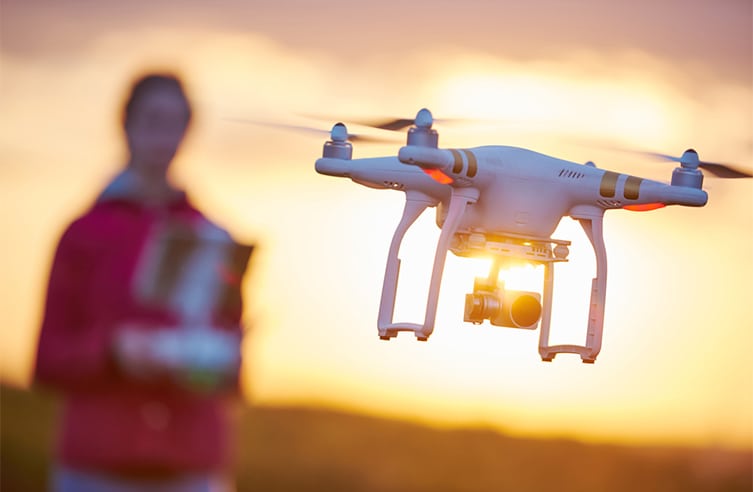 The Federal Aviation Administration (FAA) announced that drone pilots are now able to access 133 more air traffic facilities in controlled airspace, according to a Sept. 24 press release. The Low Altitude Authorization and Notification Capability (LAANC) system, an approval system for drone pilots requesting to fly below 400 feet in controlled airspace, now covers 81 percent of eligible airspace.
Controlled airspaces, like airports, require access to fly below 400 feet. Using the LAANC system, drone pilots now have access to 726 airports and 537 facilities, according to the press release. All pilots must still operate under the FAA's small drone rule.
The addition of 133 additional traffic facilities to the LAANC database was spurred by feedback within the drone community.