Check out the July 12 edition of What's Trending in Aerospace, where editors and contributors for Avionics International bring you some of the top headlines and stories across various segments of the global aerospace industry that you should be aware of for the week ahead.
Business Aviation
Boom Supersonic XB-1 Demonstrator Aircraft to Roll Out in October
Boom Supersonic's XB-1 subsonic demonstrator aircraft will roll out the company's Denver, Colorado hangar on October 7, the company said in a July 8 press release.
Due to COVID-19 social distancing recommendations, Boom plans on holding a virtual online unveiling of the XB-1. During the rollout event, Boom's lead engineers, test pilots and company leadership will discuss the design, flight and handling criteria for XB-1.
The rollout is a key milestone toward its first flight expected to occur in 2021 to demonstrate key technologies, such as advanced carbon fiber composite construction, computer-optimized high-efficiency aerodynamics, and an efficient supersonic propulsion system.
"Our experiences in the COVID-19 pandemic underscore for all of us the fundamental human need for personal connection. Faster travel enables us to experience the world's people, cultures, and places, and XB-1 is the first step in bringing supersonic back to the world," said Blake Scholl, Boom founder and CEO. "With XB-1, we're demonstrating that we are prepared to bring back supersonic."
Honeywell Aerospace RDR-7000 Radar System Achieves FAA Technical Standard Order 
Honeywell Aerospace has received an Federal Aviation Administration Technical Standard Order (TSO) for its IntuVue RDR-7000 radar system, which the company first introduce at the 2019 NBAA Business Aviation Convention & Exhibition (NBAA-BACE).
The 3D radar is described by Honeywell as being "fully automated, scanning from zero up to 60,000 feet, and up to 320 nautical miles in front of the aircraft."
Larger business and passenger jets have benefitted from IntuVue for years, and soon those same capabilities will be available on many more platforms," said Mike Ingram, vice president, Avionics, Honeywell Aerospace. "Pilots of these smaller aircraft will have the same 3D capabilities, full automation and predictive weather insights to help them make critical decisions to navigate weather ahead of and around the aircraft."
Bombardier's Global 5000, Dassault Falcon's 900C/EX/LX and Cessna's Citation X are among the aircraft RDR-7000 is currently available on, with initial delivers expected to begin in the third quarter.
Connectivity
Gogo Enables In-flight Connectivity at 3,000 Feet
Gogo has introduced new software configuration changes to its in-flight connectivity network that will enable pilots and passengers to connect at 3,000 feet above ground level (AGL) in place of the previous 10,000 feet AGL access point.
An additional 15 to 20 minutes of connectivity can be expected on most flights, a benefit to operators of shorter regional flights.
"The additional connectivity time is a significant enhancement and will deliver even more value to customers," said Sergio Aguirre, president of Gogo Business Aviation. "It makes connectivity available to those who believed inflight Wi-Fi wasn't an option because they fly shorter routes.
Availability at 3,000 feet will begin within a "phased process to enable service through ground-system configuration and remote software updates," Gogo said in a statement. Approximately 1,300 AVANCE systems flying in business aviation will benefit from this change, as will roughly 650, commercial airline regional jets equipped with Gogo connectivity.
UK Government to Invest $500 Million in OneWeb
The United Kingdom is set to take a significant equity share in OneWeb in a groundbreaking deal. On Friday, July 3, OneWeb announced the U.K. government through the Secretary of State for Business, Energy and Industrial Strategy will acquire the company by providing $500 million, with Bharti Global Limited providing another $500 million.
The deal is still subject to regulatory approval and is expected to close by the fourth quarter of 2020.
OneWeb said it plans to continue building its communications system to deliver connectivity to remote and rural parts of the world, starting with the Arctic. The company, which has 74 satellites in Low-Earth Orbit (LEO), filed for Chapter 11 bankruptcy on March 27.
Read more about the investment and space industry reaction in Via Satellite.
Urban Air Mobility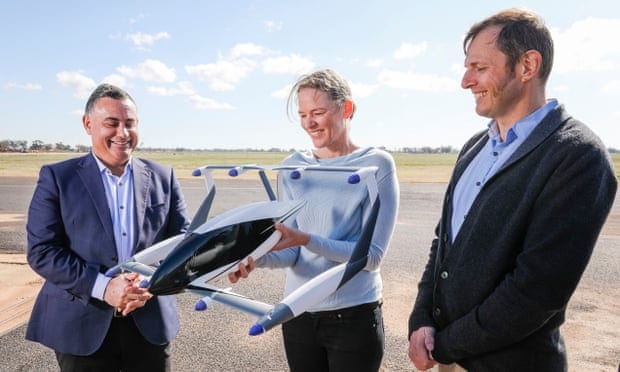 The government of New South Wales, Australia, awarded a $700,000 grant AMSL Aero to support development of a four-seat electric vertical takeoff and landing aircraft.
The project, in development for a few years, relies on battery storage but plains to incorporate hydrogen fuel cells when that technology is more mature. Andrew Moore, chief executive of AMSL Aero, describes his goal as to provide low-cost, zero emissions transport to better connect Australian cities such as Sydney and Canberra – a distance of 155 miles.
Government funds will be used to establish a testing facility and conduct test flights in the region of Narromine. The facility will be built in the next six to 12 months.
Unmanned Traffic Management
The FAA awarded $1.6 million to a group of five companies to develop and test a Contingency Management Platform intended to further fault detection and risk mitigation efforts for unmanned traffic management (UTM) systems. The team will test the platform at the New York UAS Test Site at Griffiss International Airport in collaboration with Northeast UAS Airspace Integration Research (NUAIR) and Oneida County.
The core health and usage monitoring and fault mitigation software will be provided by Syracuse, NY-based ResilienX, incorporating a TRL-9 cybersecurity module provided by Assured Information Security (AIS), micro-weather services from TruWeather, and beyond visual line of sight (BVLOS) airspace visualization and display information from Kongsberg Geospatial. Systems integration will be led by Beavercreek, OH-based CAL Analytics.