The Senate committed to public-private coordination and long-term spectrum planning needed to address efforts to protect online devices, collectively known as the Internet of Things (IoT), with the passing of the Developing Innovation and Growing the Internet of Things (DIGIT) Act on Thursday.
The DIGIT Act, which passed by unanimous vote, aims to assess the government's preparedness to ensure the cyber security of the growing number of interconnected devices, which could reach 50 billion by 2020. The bill now moves to the House for approval.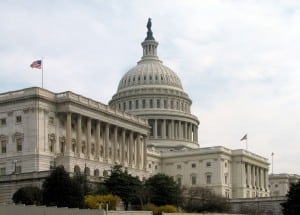 Under the act, the Secretary of Commerce would be responsible for assembling a working group made up of representatives from federal agencies including the Department of Commerce, the National Institute of Standards and Technology, the Office of Management and Budget, as well as IoT experts and manufacturers from the private sector. The working group would be responsible for identifying all federal regulations and policies that are currently inhibiting the development of IoT devices, and use findings from a steering committee to recommend plans to address governmental cyber protection efforts.
The steering committee would consist of information technology and telecom manufacturers and IoT subject matter experts from the private sector. The committee would advise the working group the necessary policies and programs that are needed to support IoT cyber protection efforts and ensure full governmental commitment to facilitate the growth of the ensure internet-connected device spectrum.
If passed by Congress, the steering committee must submit their findings to the working group no later than one year later. The working group would also have no more than 18 months to advise Congress of their IoT spectrum development plan.
Sens. Deb Fischer (R-Neb.), Cory Booker (D-N.J.), Cory Gardner (R-Colo.), Brian Schatz (D-Hawaii) co-sponsored the bill, which follows a 2015 unanimously-approved Senate Resolution which called for a national strategy to further the IoT development.