Industrial internet of things (IIoT) technologies support online, continuous condition monitoring for pumps
Because pumps are often critical to process operation and safety, condition monitoring for pumps has long been a respected practice in the chemical process industries (CPI). However, the introduction of modern technologies and tools, developed with the industrial internet of things (IIoT) in mind, is changing the face of an already good thing and making it even better.
Condition monitoring for pumps
Through the years, there have been several schools of thought on pump maintenance. For many years, pump maintenance was reactive in that pumps were run to failure. While this approach kept costs low at the onset, once a failure occurred, the loss could reach several thousand dollars in maintenance costs and even more in lost production and regulatory fines. Then along came preventive, or scheduled, maintenance, where maintenance activities were performed on pumps according to a schedule prescribed by the manufacturer or historical data. However, there was no guarantee that the maintenance was necessary or would prevent an unplanned failure between maintenance intervals. As a result, processors began to consider and practice proactive pump maintenance, which relies upon condition monitoring – usually vibration analysis and other measurements – to alert processors that maintenance was required based on actual information from the pump itself.
"Proactive maintenance, which is also known as predictive maintenance, appears more costly upfront, but the return on investment justifies the cost of condition monitoring, which is always less expensive than the loss of a critical asset," says Derek Lammel, an ISO Category 3 certified vibration analyst and reliability engineer with Dynapar (Gurnee, Ill.; www.dynapar.com). "Condition monitoring can include a vast array of techniques and monitoring, including vibration analysis, flow and temperature measurements, position of valves and more," he says. "Companies employing condition monitoring as a means to provide proactive/predictive maintenance tend to minimize downtime because it allows reaction before failure occurs, enabling not only prevention of failure, but preparation for necessary repairs – having parts and resources available – and scheduling of activities when it won't impact production."
There are additional benefits, as well. "What people don't realize is that one of the riskiest times for a pump, in terms of its operational life, is when you put it into service. There's more opportunity for failure – is it properly aligned, was oil added, are valves open, is there any downstream slag in the pipeline?" says Dan Kernan, executive director of aftermarket and technology with ITT Goulds Pumps (Seneca Falls, N.Y.; www.gouldspumps.com). "By taking pumps in and out of service for scheduled maintenance, you are introducing risk by exposing it to the possibility of instant mortality. Predictive maintenance, which is done when necessary versus a schedule, eliminates some of those risks."
Lammel points out another benefit. "While the money saved in decreasing unplanned downtime and production loss is significant, the number one benefit of using condition monitoring and predictive/proactive maintenance in pumping applications is safety of employees and protection of the environment," he says. Per Occupational Safety and Health Administration (OSHA; Washington, D.C.; www.osha.gov) regulations, the CPI is required to prevent unwanted releases of hazardous chemicals in locations that could expose employees and others to serious hazards. "In these applications, condition monitoring becomes a necessity in order to avoid harming employees, the community or the environment, as well as avoiding regulatory fines, penalties and/or shutdown of the operation."
Condition monitoring and IIoT
Prior to the advent of technologies intended to support the blossoming IIoT, condition monitoring for pumps was done during periodic operator rounds, which involved a technician moving from asset to asset taking measurements with a handheld instrument, usually on a monthly basis. The data were transferred to a database, stored and reviewed to detect potential problems and allow predictive maintenance. However, due to currently available lower-cost sensors, hardware technologies that allow seamless transfer of data, the advent of inexpensive cloud computing and advanced analytical software, many processors are moving away from periodic condition monitoring to online, continuous condition-monitoring practices.
"Continuous, online condition monitoring in pumping applications is beneficial to processors because certain failure modes common to pumps, such as cavitation, can occur suddenly and degrade rapidly," says Lammel. "Within a month you could have a failure that was undetected during the last round. With continuous monitoring, the data can be taken, analyzed and reacted to daily, hourly or within minutes, depending on user needs. There's a huge benefit in being able to catch changing conditions early enough to prevent downtime."
He and other experts say IIoT technologies have enhanced condition monitoring. "Now sensor data can be collected continuously, sent to the cloud and analyzed from any computer, network or location around the world. Alerts can be sent to the appropriate manager or field tech via email or SMS message," explains Lammel. "But the real advantage lies in being able to, via cloud storage and computing, combine and analyze several data sources."
BJ Warren, IIoT sales manager for Cornell Pump (Clackamas, Ore.; www.cornellpump.com) explains: "Predictive maintenance is further enabled by the IIoT and data analytics because we can start to delve into not just vibration, but also other variables, such as temperature and flow, that come together to be analyzed and provide a bigger picture of pump health."
Lammel agrees: "On its own, information such as vibration, temperature or flow data might not reveal issues, but when these data sources are combined, potential issues may be recognized earlier. For example, the ability to correlate speed with vibration data might show that different vibration peaks line up with increases in running speed, which could indicate a potential issue. In applications that combine different sensor data, continuous monitoring and analysis help processors get to the root cause of the problems, as opposed to just sending an alarm."
Sepideh Rajaeirad, senior analytics engineer with Seeq (Seattle, Wash.; www.seeq.com), explains: "We have had all these data in the past, but the introduction of IIoT technologies, such as edge computing/cloud computing and tools for advanced analytics, enable the ability to manage and make useful these large volumes of available data with faster, greater computational power then ever before," she says. "This ability to bring advanced analytics to the fingertips of subject matter experts and engineers provides them with insight that empowers them to make better decisions about the equipment."
Juan Panama, business development manager with Emerson (Shakopee, Minn.; www.emerson.com), adds: "When you start using IIoT technologies and advanced analytics to look at the matrix of fault conditions for each pump, including not just vibration, but measurements like suction pressure, discharge pressure, temperature and level, motor current, motor voltage and pump flow, they come together to provide a holistic view around the pump. That holistic insight is difficult to obtain by simply using a technician in the field once a month. Pervasive sensing and continuous monitoring make the collection process easier and advanced analytics allow users to make better decisions, prioritize maintenance and act accordingly so the pump doesn't fail. Simply put, IIoT technologies have enabled more effective, smarter and more actionable pump monitoring," says Panama.
Takayuki Sugizaki, manager of IA Products and Service Business with Yokogawa Electric Corp. (Tokyo, Japan; www.yokogawa.com) provides an example of how it all comes together: "For one customer, our Sushi Sensor – a wireless solution for IIoT that measures vibration and temperature and can transmit data to the cloud or to on-premise infrastructure – monitored the trend of pump acceleration for six months and detected abnormal signs. This is the first step of digital transformation," he says (Figure 1). "After noticing abnormalities, the Yokogawa team sent alerts to the users, enabling them to find breakage of balls in the bearings. This affirmed its ability to predict necessary maintenance. After this analysis, and as a check on our new technology, the Yokogawa team received raw historical data from the user and analyzed it using Yokogawa's artificial intelligence (AI) technology, which detected signs of abnormality three months prior to failure. With advanced decision making to supplement the dwindling number of experts by using machine learning and AI, maintenance plans can be efficiently carried out by combining equipment condition data with AI and machine learning."
Pump monitoring via the IIoT
So, how does a processor advance and enhance pump monitoring? There are three main components. Sensors are used to collect data from the pumps. Users also need infrastructure for heavy computation, which includes cloud storage or edge computing to move and store the data. The third component is tools for advanced analytics. "This combination provides the necessary data along with a strong infrastructure that empowers users with the great computational power necessary to apply advanced analytics," says Seeq's Rajaeirad.
There are several approaches and various levels of involvement and investment that can be employed. The simplest are technologies and applications available from pump manufacturers. Condition-monitoring applications for pumps and rotating equipment are also available from companies that specialize in condition-monitoring technologies. Other avenues apply individual tools, such as devices for edge computing, that can be used with existing sensors to move information to its destination, and analytical software packages. Finally, there are holistic systems that provide all the sensing devices, transmission of the data and analytics in one package.
Specific applications
ITT Goulds Pumps recently introduced iAlert2, which combines Bluetooth and sensor technology into one package so users can monitor and diagnose equipment from a distance (Figure 2). It provides continuous machine health monitoring for early detection of machine failure via vibration, temperature and run-time monitoring, data logging with trend analysis, advanced vibration analysis tools, access to machine records and wireless syncing to mobile devices. "This type of Bluetooth condition-monitoring technology assists processors with making the move from reactive to predictive maintenance," explains Kernan. "The focus here is on simplicity, speed and ease of use. To employ both condition monitoring and the IIoT, users need sensors that are economically feasible, as well as a way to economically get the data out of those sensors. The iAlert provides options to either simply provide a safer walk around by installing iAlert on the machine and collecting data via a smartphone or tablet without getting near the equipment or you can install a physical gateway that automatically picks up sensor data and brings it to the iAlert intelligence platform. In either case, the technology provides and moves the data needed to perform analytics based on a detailed picture to fully employ predictive maintenance."
Cornell Pump offers the Co-Pilot, which consists of hardware mounted to the pump, a cloud-based data interface and optional sensors. Every Co-Pilot subscription includes access to a portal that provides remote pump management either via a web browser or an app for smartphones. Through the portal, users can gain insight into several aspects of specific, pump-related information, running conditions and overall pump health. The technology also includes global positioning system (GPS), so users can track the pump's location.
"Co-Pilot monitors vibration and temperature of each pump via built-in sensors. In addition, we have the ability to pull in external inputs, so if the user has pressure transducers, flowmeters, level sensors or other sensors surrounding that pump, they can tie those into our module and push that data up to the servers, as well," says Warren. "This allows us to paint a picture of how that specific pump is operating, not just in terms of vibration and temperature, but exactly where the user is operating on the pump curve at any given time, while also viewing historical data. This means decisions can be made about whether the pump is running efficiently and in good health or whether to take corrective actions before the pump fails."
Also available are condition-monitoring technologies, such as Dynapar's OnSite, which provides vibration analysis with cloud-based tools that provide 24/7 remote condition monitoring (Figure 3). Users can configure the system with application-specific triggers or thresholds, enabling the system to listen for vibrations, temperature or speed events once per minute. When a threshold is met or exceeded, the system will respond by sending data to the cloud, where it is compared to user-created alarm levels. If alarm conditions are reached, the system notifies users via email or SMS message.
New technology towards IIoT
Specific applications are one step on the road to IIoT-based condition monitoring, but more and more technologies are available that can work with these and other applications to move processors even closer to a holistic view.
"While condition monitoring provides the level of equipment data needed to build useful performance models that enable accurate prediction, IIoT expansion has been slower than expected because of hazardous-environment requirements and barriers to interoperability and infrastructure scalability issues," says Josh Eastburn, director of technical marketing with Opto 22 (Temecula, Calif.; www.opto22.com). "An application like pump monitoring requires not only industrial-hardened sensing equipment, but also the ability to communicate larger amounts of data securely and efficiently, possibly from remote locations. The technologies that make up the traditional automation architecture consist of a heterogeneous mix of communications protocols and media communicating over disparate networks and applications, typically without inherent security. Extending these networks to bring in more data from far flung pump skids can become an expensive and risky proposition."
This has led to an evolution in the functions of industrial edge devices, which make it easier to create secure, reliable automation architectures, allowing such devices to knit together all the disparate systems and create a foundation of shared data with a layer of security that can be managed as one system. "And, on top of that foundation, an MQTT server, often called a broker, will solve the rest of the architectural puzzle. MQTT-enabled sensors communicate directly with the server, which in turn can make that data available to any number of applications," explains Eastburn. "Opto 22's groov Epic combines technologies and tools for sensing, control, data processing and visualization and connectivity. It's a secure MQTT-enabled platform that can act as an industrial edge gateway for legacy PLCs [programmable logic controllers] and traditional or wireless devices and sensors. It can be relied upon to design scalable IT/OT infrastructure, connecting a variety of devices to on-premises and cloud-based systems" (Figure 4).
And, advanced analytics packages are the last part of the puzzle – once collected data are sent to the cloud, these analytical tools work their magic to analyze those data into actionable information. For instance, Seeq is in the space of advanced analytics, says Rajaeirad. "We connect the data source and enable advanced analytics, so engineers can rapidly investigate and share analyses from operations and manufacturing data sources to find insight."
Designed specifically for analyzing process data, the application works with time series data in historians or other storage platforms. "Most of the data coming from sensors are time series. Our applications provide the answers to challenges with advanced analytics that also enable engineers to use their expertise and knowledge of their process to solve problems and make decisions. Enabling engineers is key in IIoT applications and condition monitoring. Without their knowledge and expertise, we are missing a huge point, which is the real, live insight about the operation."
Holistic approach
While individual applications can be used and separate technologies can be combined to create an IIoT-driven, online, continuous condition monitoring system, there are also systems available that tie everything together in one package.
For example, Emerson offers sensors and transmitters for pervasive sensing and provision of the data that lays the foundation for condition monitoring. Once the raw data are acquired, they are sent to wirelessHART gateways and onto an analytics portfolio. "One example is Plantweb Insight, a data analytics software program focused on different key assets in the facility. One of these key assets is pumps, and Plantweb can be used to run different analytics and provide actionable information about them," says Brian Joe, global product manager, with Emerson (Figure 5). "We also have other analytics programs that can look at pump performance and tie it all together via collaboration tools that write work orders and distribute them to the right people at the right time. This is all part of Emerson's Plantweb Digital Ecosystem. We have the entire story to make the IIoT happen within these facilities."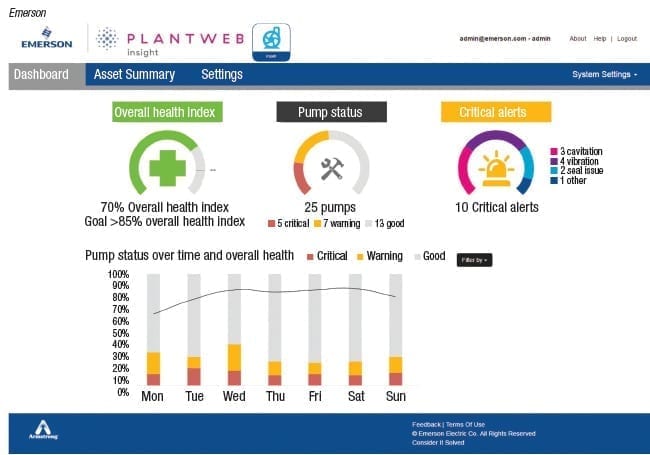 No matter the approach, IIoT is without a doubt enhancing the capabilities of pump monitoring. "As technologies for the IIoT continue to expand and users begin to see the benefits, we will see changes in how condition monitoring is done and if they don't keep up with condition monitoring via the IIoT, they will be left behind," notes Dynapar's Lammel.