As hospital administrators face shrinking operating margins, OR leaders are being called upon to create innovative approaches for boosting revenue. Adding a new service line is one option, but it carries both risks and rewards. Only by careful analysis and follow-through can OR leaders hope to tip the balance to rewards.
The experiences of two OR leaders in small and large hospital settings provide guidance on how to identify possible new service lines and implement them successfully.
Robotic-assisted total joint surgery
"Service lines diversify an OR's offerings, helping to increase market share, create new revenue, and attract new surgeons while retaining existing ones," says Patricia Andrews, MHA, BSN, RN, CNOR, director of perioperative services for Marina Del Rey Hospital, a small community hospital with six ORs in Marina Del Rey, California. Andrews explains the process of creating a robotic-assisted total joint replacement (TJR) surgery service line in terms of why, what, when, and how.
Why add a service line?
In 2017, Andrews says leaders at Marina Del Rey began to analyze some of the challenges facing them. "We had all our eggs in one basket," she says. Those eggs were spinal surgeries, which were starting to migrate from the hospital to ambulatory surgery centers. Other challenges included older surgeons who were doing fewer procedures, which meant the hospital needed to recruit new surgeons while keeping the existing ones. Fortunately, unlike other area hospitals, Marina Del Rey had open robotic time, which Andrews says helped to bring in not just robotic cases, but other procedures as well.
The situation called for cautious expansion. "It's important to remember that most surgery departments are too small to be everything to everybody," Andrews says. That meant the next step was to determine focus.
What should the focus be?
To answer this question, Andrews and her colleagues considered the following areas.
Demographics. Using data from USA.com (http://www.usa.com), the team learned that the most common age range of the population the hospital serves is 21 to 34 years, with significant numbers in older age ranges, too. Most patients were in the upper income bracket.
Competition. "We are near Los Angeles, so we have a lot of very good hospitals within a small radius," Andrews says, noting that the geographic situation required thorough research. When conducting research, she recommends asking many questions but recognizing that those answering the questions may have their own agendas. For instance, a sales representative might overestimate demand in the hopes of selling more products.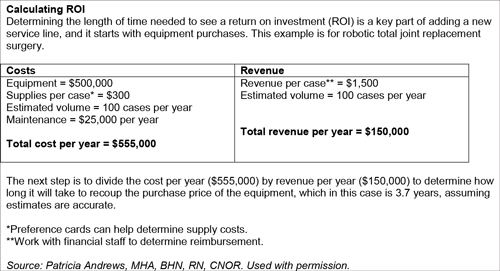 Surgeon request/input. When a surgeon requests a new service line that requires new technology, Andrews recommends considering factors such as whether the technology improves patient outcomes and if it can be used by other service lines. The bottom line is return on investment (ROI) after equipment purchase (sidebar above); in some cases, it may be more cost-effective to rent or lease.
Andrews cautions OR leaders about accepting surgeons' requests and volume estimates at face value. For example, a group of surgeons wanted the hospital to purchase instrumentation for performing blepharoplasties, but Andrews learned that the group had performed only one of these surgeries in the previous year.
Potential users. The team at Marina Del Rey thought adding robotic-assisted TJR surgery would be a viable option for the hospital, but first they needed to recruit new surgeons. "This was another area where market information was helpful because we learned which surgeons were having difficulty getting block time at their current facilities, and we approached them," Andrews says.
Meeting demand. Questions to ask include:
*Can ancillary services support the new service line? For example, earlier discharge of TJR patients meant more regional nerve blocks were being performed. "We added that competency for nurses in areas other than the OR–the PACU [postanesthesia care unit] and preop–so now we can pull additional help when we need it," Andrews says. Physical therapy staff shifted their hours to later in the day so they could help patients ambulate before discharge the same day.
Are there adequate inpatient beds with appropriately trained staff to handle the volume of patients?
What training, if any, is needed for the perioperative and inpatient staff, and who will train the staff? "We had surgeons provide in-service staff training on how they wanted their patients cared for, and nurses in the PACU learned how to discharge patients," Andrews says. Training on new equipment was also provided.
Are there special credentialing requirements?
Are the rooms large enough to accommodate any new equipment?
Community need. In some cases, offering a new procedure may be considered to be a community service, although even in this case, it can be perceived as a "loss leader," defined as a product sold at a loss to attract customers.
When should a service line be added?
Timing considerations include finance, staffing, block time, and technology.
When it comes to finance, Andrews says it's important to ask: "Can you afford the purchase and initial supply investment, along with the maintenance?"
The organization needs to have adequate staffing levels and staff with the necessary expertise. "You want to make sure you aren't counting staff who are going to retire the same year you're implementing a new service line," Andrews says.
A new service line usually means adjusting block time, which is particularly challenging. "It takes at least 4 months to pull someone's block time because they have to be notified twice," Andrews says. Before going that route, she asked surgeons with low usage to reduce their time voluntarily to avoid the possibility of losing all of it.
Technology is always advancing, so Andrews says to be sure to purchase the best, most recent model.
How should a service line be added?
Implementing the service line begins with thoughtful planning by a multidisciplinary team. Andrews says key players on the team are service line coordinators, the chief financial officer, vendor representatives, materials management staff, and leaders from the OR and inpatient units. Depending on the project, consider adding representatives from the sterile processing department, marketing, scheduling, and information technology.
It's also important to get staff excited about the project, Andrews says. At Marina Del Rey, a team was formed specifically for robotic-assisted TJR procedures. "I've found that having specialized teams increases satisfaction and reduces turnover time," she says.
The team also needed to consider how the new service line was going to be received by existing surgeons and staff. For example, established surgeons were reluctant to change practice, and staff were initially resistant to discharging total hip replacement patients the next day. To overcome resistance, Andrews suggests, "first, tackle the smaller, easier, evidence-based measures." She cites the example of chlorhexidine showers before surgery. Now nurses are encouraging surgeons to send patients home sooner. "Several of our existing surgeons have adopted the new [robotic] technology into their practices as well," Andrews says.
Providing extra support for the first case in the new service line, including a precase huddle and postcase debriefing, showed staff that leaders were committed to their success. "It's important to be visible," Andrews says. Celebrating successes also shows support. "We call out staff during meetings and give them a lot of pats on the back," Andrews says.
Once a program is established, Andrews recommends tracking volume at least quarterly. Ongoing communication with staff and surgeons about what is and is not working well, along with evaluation of staff competencies, is also key.
Exceeding goals
Marina Del Rey implemented robotic-assisted TJR surgery in December 2016. Instead of the expected nine surgeries in the first 90 days, there were 50 cases in the first 100 days. And from January 1, 2018, to May 10, 2018, 150 cases (65 total hips and 85 total knees) have been performed.
"Our keys to success were dedicated teams, staff engagement, support from sales representatives, immediate feedback to the team, and realistic surgeon expectations," Andrews says.
Bariatric surgery
Does it make sense to add bariatric surgery as a new service line? That's the question Tammy Huster, MBA, MAS, BSN, RN, NE-BC, assistant vice president for patient care services at Virtua Marlton Hospital in Marlton, New Jersey, and her team asked. Marlton Hospital is part of the Virtua Health System, which has its own physician group, three hospitals, and 12 ambulatory surgery centers.
"Over one-third of people in the US are considered obese, so we believed it was an opportunity," Huster says. "It also connected with our mission of 'be well, get well, and stay well.'"
To confirm that adding bariatric surgery was the right decision, the team performed a community needs assessment; conducted a strengths, weaknesses, opportunities, and threats (SWOT) analysis; and determined the hospital's capabilities.
Exploring community needs
Assessing the community by collecting information about an expressed or implied need helps identify gaps between what exists and what is needed. "It can point you in the direction of future improvement," Huster says. Past analysis for other service lines indicated that obesity management provided opportunity for the hospital.
The assessment comprised the following steps:
Define scope, which includes who, what, where, and why. "Fortunately, based on previous analysis, we already knew our target population and where they lived," Huster says.
Collect data. This step included focus groups, telephone calls, and mailed surveys to gather information about current surgical offerings in the area.
Determine key findings. For example, the data showed that people wanted to travel a maximum of 10 miles to have surgery, and only two bariatric surgery programs were within that range.
Set priorities. "Setting priorities is one of the hardest steps," Huster says. "Did we want to be the leader, or capture just a certain amount of market share?" The team tapped into internal experts in Six Sigma to help with the process. The decision was to start with a goal of 6% of the bariatric surgery market share from one county, where people currently had to travel a considerable distance for this surgery.
Share findings. All the information was shared with key stakeholders, who conducted a SWOT analysis.
SWOT analysis
"A SWOT analysis helps you answer the question of whether your objective is really attainable," Huster says. "It may seem like a simple tool, but it isn't always done correctly." To gain the most benefit, consider internal (strengths and weaknesses) and external (opportunities and threats) factors, and place conclusions within a matrix (sidebar above).
"Try to match a strength to an opportunity or weakness," she says. "If you can't, ask if you can make a change in the opportunity or weakness." If not, the team should consider whether the project is worth pursuing.
Huster notes that it's important to have the right people conducting the analysis: "Otherwise, you won't get a full picture and could go down the wrong path as a result."
A SWOT analysis must be a participative tool, Huster adds. "When looking at a new service line, include those who will be instrumental in implementing it," she advises. SWOT analysis isn't perfect–creating a "list" of weaknesses may result in less robust discussion; the process is subjective by nature, for example, different groups can perceive strengths and weaknesses differently; and it doesn't address prioritization. "It's not a formalized plan; it just gives you insights," Huster says.
Those insights helped the team gain a better perspective of the challenges they would face in adding bariatric surgery.
Determining capabilities
To determine capabilities, the team needed to answer several questions, including:
What resources do we have, and what do we need?
What is required for accreditation and regulatory purposes?
What is needed for the perioperative care of patients who undergo bariatric surgery?
When would it be possible to implement the service line, which ORs would be used, and how should it be implemented?
"We had to look at our goals and choose strategies to meet them, while being realistic," Huster says. The team examined four key areas:
People. This included staff and patients. For example, the patient population in the hospital was mostly older, but those undergoing bariatric surgery would be younger. Staff training had to be considered, as well as details such as providing larger chairs for patients.
Finances. The ORs where bariatric surgery would be performed would have to be enlarged, and equipment would need to be purchased, so it was important to work with finance to determine ROI.
Process. "We had to create an infrastructure to support the service line," Huster says. The infrastructure included a supervised weight loss program and a nurse bariatric coordinator (another was soon added). Because another hospital in the Virtua system already had a bariatric service line, Marlton needed to use the same processes for patients and surgeons.
Technology. The team leveraged the hospital's electronic health record system to obtain reports and dashboards that helped assess capability and monitor various parameters for the program. SharePoint, a cloud-based platform that integrates with Microsoft Office, was used to enhance collaboration among those involved in the new service line.
Implementation and follow-up
After a strategic plan was completed, a task force was developed to implement the service line. The team met frequently to improve communication and address challenges faced; the goal was to remove barriers by engaging frontline staff and discussing the new service line in surgeon meetings to encourage face-to-face dialogue.
"They had to do all this while working on improving surgical care and recovery [in the OR]," Huster says. One outcome of the meetings was the creation of a private Facebook page to facilitate networking among patients after surgery.
"Many things have to be done to create a service line," Huster adds. Perhaps the most important is involving all stakeholders. In the case of bariatric surgery, that included patients; clinicians; the surgical team, ICU team, medical/surgical team, support service team; and staff from finance, medical affairs, and billing.
The first bariatric procedure was done in 2011, but the service line was established in 2016. To date, more than 500 procedures have been completed. "We plan on evaluating strengths and weaknesses of the program at least annually," Huster says.
Cynthia Saver, MS, RN, is president of CLS Development, Inc, Columbia, Maryland, which provides editorial services to healthcare publications.
References
Andrews A. Finding opportunities in new service lines. OR Business Management Conference. 2018.
Huster T. New service lines can spell stability for the future. OR Business Management Conference. 2018.